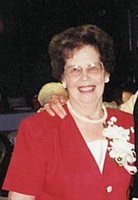 Florence (Graham) Hamilton
Florence Evelyn (Graham) Hamilton, 101, of Girard, passed away Saturday evening, October 21, 2017 at Pleasant Hill Village in Girard, IL.
Florence was born on April 25, 1916 to Clarence and Nellie Graham in Bement, IL. She married Alvin Hamilton on September 26, 1935 and he preceded her in death on July 6, 2003. Florence was a resident of Pleasant Hill Village apartments for 8 years before moving to the nursing facility.
Florence and her husband owned and operated Hamilton Plumbing, Heating and Air on South 8th Street in Girard. She was a very active member of Girard United Methodist Church and loved to volunteer within her church. Florence enjoyed cross stitch, needlepoint, crocheting, and stitching hand towels. She loved to dance and was a wonderful piano and organ player.
Florence is survived by two cousins, Dale (Joann) Graham of Raymond, IL, and Maynard (Norma) Graham of Carlinville, IL; two nephews, Gary (Sheri) Wise of Mortin, IL, and Russell (Jan) Wise of Grapevine, TX, as well as 15 Hamilton nieces and nephews and many friends.
Florence was preceded in death by her parents; husband; 2 brothers, Paul and Gene, and 2 sisters, Margaret and Doris.
Visitation will be held on Friday, October 27, 2017, from 9:00 to 11:00 am at Davis-Anderson Funeral Home, 226 North 3rd Street, Girard, IL 62640.
Funeral services will follow at 11:00 am at the funeral home with Chaplain Terry Link officiating.
Burial will take place in the Girard Cemetery.
Memorials are suggested to the Girard United Methodist Church or Pleasant Hill Nursing Home.
Davis-Anderson Funeral Home, Girard is in charge of arrangements.