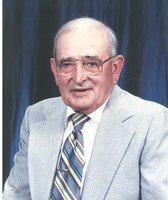 Earl Lynn ""Uncle Bud"" Yard
Earl Lynn "Uncle Bud" Yard, 87 of Carlinville, passed away Thursday morning, October 19, 2017, at White Hall Nursing and Rehab Center in White Hall, IL.
Earl was born June 17, 1930, in Carlinville, IL, a son of Frederick Earl and Mary Lucille Pratt Yard.
Earl was united in marriage to Clara McAfee on February 3, 1957 in Chesterfield, IL. She passed away on March 24, 1995 after 38 years of marriage.
Earl farmed his lifetime on the family farm Northwest of Carlinville. He was a grain and livestock farmer where he raised cattle, hogs, sheep and chickens. He also was a Lowe Seed Corn
salesman for several years. Earl was a member of Charity Church where he served as a Trustee and assisted with the collections during Sunday services.
Earl was preceded in death by his parents, wife, nieces; Brenda Whalen, Cheryl Friesen and her husband Don, brothers-in-law; Jack Whalen and Jerry Pratt and nephew, Thomas Gobbel.
Visitation will be held Saturday, October 21, 2017 from 1:00 to 2:00pm at Charity Church rural Carlinville where funeral services will be held at 2:00pm with Rev. Richard Hazelwood.
Burial will follow in Charity Cemetery, Carlinville next to his wife.
Earl is survived by his daughter, Alice Marie (Ron) Sherwin of Roodhouse, IL, grandchildren; Amy Marie and Randall Tyler Sherwin, sister, Joyce Marie Whalen of Girard IL, sister, Janice Lea Pratt of Bethalto, IL, sister, Mary Lou (Paul) Wooderson of Independence, MO, several nieces and nephews.
Memorials may be made to World Changers and Charity Baptist Church.
Please visit www.davisandersonfuneralhome.com to leave condolences or light a candle in his memory.
Davis-Anderson Funeral Home, Carlinville is in charge of arrangements.