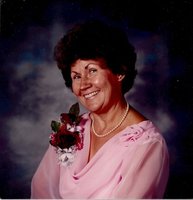 Alice Lee Woodson
Alice Lee Woodson, 80, of Carlinville, IL, passed away Sunday morning, October 15, 2017 at her residence.
Alice was born April 10, 1937 in Jerseyville, IL, a daughter of Henry R. and Lorraine (Trent) Craig.
Alice's main focus was always on her family and never thinking of herself but the needs of others. She was a bank teller at Godfrey State Bank in Godfrey, IL, and Farmer's and Merchants Bank in Carlinville. In June, 1994, Alice graduated as a Medical Doctor's Assistant at the age of 57, with the highest grade in her class. She loved playing the organ and piano at several churches, weddings and funerals. With her training, she did home health care for several families throughout the years.
Alice was preceded in death by her parents; son, Richard Dale Woodson; sisters, Violet Sullivan, Maryann Coonrod, and brother, Roger Craig.
Visitation will be held on Friday, October 20, 2017, from 4:00 to 7:00 pm at Davis-Anderson Funeral Home, Carlinville, IL.
Memorial Services will be conducted on Saturday, October 21, 2017 at 9:00 am at Zion Lutheran Church in Carlinville with Rev. Timothy Wilcoxen officiating.
Burial will follow in Oak Grove Cemetery, Jerseyville, IL.
Alice is survived by her son, Alan Ray Woodson of Carlinville, IL, daughter, Susan Loraine (Kenny) Brueggeman of Brady, TX, grandchildren; Destiny (Woodson) Payne, Joseph Payne, Heather (Woodson) Payne, Joshua Payne, great-grandchildren, Matthew Payne, Hunter Payne, Chloe Payne, and Caleb Payne, sister, Ruth Flannery of St. Louis, MO.
Memorials may be made to Macoupin County T.A.I.L.S. or Zion Lutheran Church.
Please visit www.davisandersonfuneralhome.com to leave condolences or light a candle in her memory.
Davis-Anderson Funeral Home, Carlinville is in charge of arrangements.