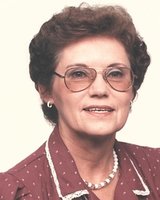 Marjorie Ruth Jennings
Marjorie Ruth Jennings, 89, of Carlinville, formerly of Roodhouse, IL passed away Saturday afternoon, October 14, 2017, at Carlinville Area Hospital.
Marjorie was born January 1, 1928, in Oglesby, IL, a daughter of James and Dorothy Pryde. Marjorie graduated from Oglesby High School. She married Francis E. "Dutch" Jennings and he survives.
Marjorie owned and operated with her husband "Dutch's Bar in Roodhouse for several years. She loved crossword puzzles and helped with the Elementary School reading program. Marjorie was a member of Emmanuel Baptist Church where she taught Sunday School and was active in the Missions Program in the Baptist Association.
Marjorie was preceded in death by her parents, daughter Denise Wear, a brother and two sisters.
Visitation will be held on Wednesday, October 18, 2017, 5:00 to 7:00 pm at Davis-Anderson Funeral Home, Carlinville, IL.
Funeral Services will be conducted at 10:00 am, Thursday,October 19, 2017 at Emmanuel Baptist Church, Carlinville with Rev. Cliff Woodman officiating.
Burial will follow in Camp Butler National Cemetery, Springfield, IL.
Marjorie is survived by her husband, Francis E. "Dutch" Jennings of Carlinville, IL, sons, Kevin (Patti) Jennings of Olathe, KS, Blaise (Marga) Jennings of Shipman, IL, Kyle Jennings of Roodhouse, IL, daughters, Cathy (Gary) Grim of Pheonix, AZ, Donna (Brent) Younkin of Glendale, AZ, Becky (Don) Bickhaus of Quincy, IL, Traci Castleberry of Hillview, IL, Lisa Jennings of Carlinville, IL, 18 grandchildren, 28 great-grandchildren, and a great-great grandson, several nieces and nephews.
Memorials may be made to Leukemia Foundation.
Please visit www.davisandersonfuneralhome.com to leave condolences or light a candle in her memory.
Davis-Anderson Funeral Home, Carlinville is in charge of arrangements.