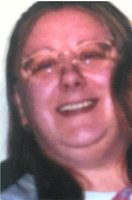 Paula Schwartz-DeWitt
Paula Lynn Schwartz-DeWitt, 50, of Girard, passed away Saturday afternoon, May 13, 2017 at St. John's Hospital in Springfield, IL.
Paula was born on July 31, 1966 to Marvin Voss and Trudy (Brown) Dixon in Overland, MO. She graduated from Sesser-Valier High School with the class of 1984 and then graduated from Rend Lake College with a degree in nursing. Paula worked as a Registered Nurse for St. Anthony's Hospital in Alton, Il, Pleasant Hill Village in Girard, and Sunrise Manor in Virden. On March 24, 1997 she married David DeWitt in Paducah, KY.
Paula enjoyed being a homemaker and spending time with her grandchildren. She liked to garden and watching CSI on TV.
Paula is survived by her husband David; mother, Trudy Dixon of Mt. Vernon, IL;father, Marvin Voss of Makanda, IL; son, Joshua Aaron (Audri) Schwartz of Farmersville, IL; daughter, Stephanie Renee Schwartz of Girard, IL; two grandsons, Tristen Aiden Schwartz and Hadyn Thomas Schwartz; granddaughter, Ava Laka Schwartz; two sisters, Shari (David) Garascia of Sesser, IL and Diana (Dwight) Morgan of Denver, CO; several nieces and nephews.
Paula was preceded in death by her grandparents.
Visitation will be held Friday, May 19, 2017, from 10:00 am - 11:00 am at Davis-Anderson Funeral Home in Girard, IL.
Funeral services will be held on Friday, May 19, 2017, at 11:00 am at the Davis-Anderson Funeral Home, with Pastor Kenneth Lovely officiating.
Burial will take place in the Virden Cemetery.
Memorials are suggested to the Family.
Online condolences can be given at www.davisandersonfuneralhome.com.