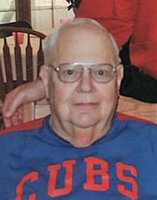 James H. "Jim" Fenton
James H. "Jim" Fenton, 79, of Carlinville, passed away Monday evening, March 27, 2017 at Heritage Health Care in Carlinville, IL.
Jim was born on October 4, 1937 to Donald and Mina (Schramm) Fenton in Normal, IL. He graduated from Bloomington Central Catholic High School, received his Bachelor's degree from Illinois State University and his Master's degree from Western Illinois University. Jim married Mary Roosevelt on February 6, 1960 in Wilmington, IL and they recently celebrated their 57th wedding anniversary.
Jim was a school teacher, starting his career in Wilmington, IL, then continuing in Carlinville in 1962, retiring in 1995. He continued working for the school district as treasurer for several years afterwards. During his time teaching he was instrumental in starting the Scholastic Bowl Team and he was one of the initial inductees into the Illinois Scholastic Bowl Hall of Fame. He was also an IHSA official for many years, doing football, basketball and baseball. He was a long time member of the Carlinville Public Library Board, Lewis and Clark Library Board, Heartland Library Board and was on the Carlinville Zoning Commission.
Jim was a Lions member for 57 years, with 56 years perfect attendance. As a member of the Carlinville Lions Club, he held every office and was president twice. He served as District 1-G Governor in 1980-81. He attended twenty International Conventions as well as numerous state and district conventions. He served in various cabinet positions including trading pin designer and served nine terms as district cabinet secretary/treasurer. At the State Level, he was state magazine editor for almost fifteen years.
Jim loved to read, do trivia events, was an avid stamp and coin collector and above all else, a diehard Cubs fan all his life.
Jim is survived by his wife, Mary Fenton of Carlinville, IL; two sons, Eric (Judy) Fenton of Carlinville, IL, and Jeff (Maria) Fenton of Bradley, IL; 4 grandchildren; 3 step grandchildren; 4 great grandchildren; 9 step great grandchildren; 2 step great-great grandchildren, as well as several cousins.
Jim was preceded in death by his parents and a great grandson.
A celebration of life gathering will be held on Saturday, April 22, 2017 from 2:00 to 5:00 pm at the Carlinville Elks Lodge.
Memorials are suggested to the Carlinville Library or Carlinville Lions Club.